Die Fledermaus - January 2013
"Congratulations for the splendid performance VanCOCO has produced and myself with my friends had a pleasure of attending last Saturday! It was a treat! We loved the informal setting of it, the smart mixture of tradition and contemporary approach and above all the vocal execution. We sincerely commend you for the effort to make this organisation going. We wish that this energetic society which already enriched the musical landscape of Vancouver will grow and bring so much needed opportunities for performance to our fabulous and so talented young singers." ~ T. Bobrowska
"Outstanding performance in an incredibly intimate venue - if you are free this evening, I strongly recommend you catch this show! So many fine voices - such beautiful music - great laughs, thanks to the English libretto.... kudos!" ~ Edette Gagné
"Wow! What a fantastic operetta, had a great time & the most talented & amazing artists ever! Unbelieveable performance!!" ~ Kash Abtin
"Many beautiful voices! Thanks for a great show!" ~ Vahid Dorri
"Very impressed. Great show! Very entertaining and such amazing voices!" ~ Kathryn Nickford
"Fantastic show last night. I was so impressed by the strong cast of brilliant singers. It was so great to see some of the fine new talent in VCOS. Bravo" ~ Natasha Vignal
"Fantastic show last night!" ~ Holger Rolf
"Such wonderful singing last evening....thank you for sharing." ~ Tracy Wiens
"Thoroughly enjoyed die fledermaus! Another fantastic show." ~ Jacqollyne Keath
Rigoletto - February 2012
"My husband and I attended the performance on Saturday in White Rock. We are not avid opera fans but thought it sounded like an interesting thing to do. I must tell you, we had an amazing experience and thoroughly enjoyed it. The performers, especially Szu-Wen Wang and the pianist, Wenwen Du, were incredible. I had tears in my eyes when she sang her aria. If word of mouth helps bring it back again, count on me to tell all our friends. Thank you." ~ Carol Wong
"Wonderful first half of @VanCOCoOp Rigoletto just finished. It was all great, but 'Caro nome' was phenomenal!" ~ @LM_Soprano
"The show was amazing! Everyone has such incredible voices!" ~ Tatia Vega
Trouble In Tahiti - September 2011

Opera Canada Review
Winter 2011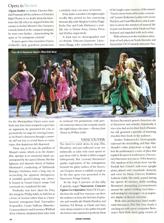 Click the image above to
read the full review!



"Expressive and versatile alto Natalie Burdeny and baritone Ed Moran, as Dinah and Sam, were always sensitive to the pathos beneath the humour and expresssed it perfectly." ~ Opera Canada (Winter 2011)
"If you've wanted to try an opera but never dared go to one because it seemed inaccessible, Trouble in Tahiti is probably the best introduction. It's in English, it's accessible and it's very short (40 minutes)." ~ Anabelle Bernard Fournier (Hummingbird604)
"Contralto Natalie Burdeny carries the lyricism of the aria beautifully and has the maturity to convey the sadness and desperation of trying to get from a bed of weeds to a garden of love and happiness." ~ Plank Magazine
"The show left me touched and sad, a good sign that the singers conveyed the emotions well. I had a great time and I recommend it to opera newbies and buffs alike." ~ Anabelle Bernard Fournier (Hummingbird604)
"The shower scene is a witty triumph itself with a naked Sam singing about the glories of being a winner." ~ Plank Magazine 2012
"Let me again congratulate you on Trouble in Tahiti – I thoroughly enjoyed it." ~ James W. Wright (General Director, Vancouver Opera)
"Congratulations on all your hard work. I really really enjoyed your production last night. Thanks for bringing such a rare gem to Vancouver audiences." ~ Scott Ashton Swan (Applause Musicals)
"It was better than CATS, I'll see it again and again!" ~ Michael Drake, M3 Personnel
"Congrats on a great show. So glad I got to see you all tonight. The street scene duet was just gorgeous. A real success all around." ~ Diane Speirs
"I was at the show last night. LOVED the music. Congratulations to you all!" ~ Susinn McFarlen (Actor/Playwright)
Bizet's Carmen - January 2011

Opera Canada Review
Spring 2011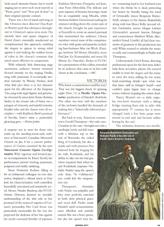 Click the image above to
read the full review!



"Bravo, what an exciting performance, and to a full house too!" ~ Peter and Gillian Taylor
"It was a fine performance, and Chris, my son, and I thoroughly enjoyed it. The music was lovely, the singing was wonderful (as was the piano). Let us know when the next performance will be." ~ Peter G. Buckland, C.M., P.Eng.
"Congratulations on an excellent performance and on VanCOCO's first presentation. You have set a very high standard." Peter Munns
"My mum and four of her friends went to your concert and the praise I heard was astounding. They are all huge Opera lovers (season ticket holders for years) and they all thanked me for telling them about your concert! They had such a wonderful evening. Mum's words "Your friend Natalie, she was Carmen make no mistake! She was luscious!"Bravo Bellissima!" ~ Bridget Catchpole
"What an amazing amazing amazing show last night!!! It was absolutely wonderful and I was so happy to be sitting at the back listening." ~ Islay Binnnie
"You (Carmen) were just amazing last night... we were just in awe!!! Congratulations and thanks for such an amazing show!" ~ Naomi Yokota
"So many things to say to you!! Congrats on the great sing of Carmen! Congrats on the opening show of your new company and CONGRATS on a SOLD OUT show!! The show was just perfect!! All the singers were OUTSTANDING!! CONGRATS GIRL!!" ~ Lindsay Sutherland Boal
"AMAZING! Outstanding... Just outstanding! I'm looking forward to the next production already." ~ Liane Gottgetreu
"You wowed them in the role of Carmen. What a phenomenal production, imagine playing to such a packed house and the standing ovation moved me to tears." ~ Anne Delage
"Congratulations to the entire cast of Carmen, it was magical!" ~ Diana Maureen Sandberg
"Beautiful performance tonight! I really enjoyed it!" ~ Denise Konings-Wiles